---
Bliv certificeret i invasiv mesoterapi
Mesoterapi er en relativ ny måde at tilføre vitaminer og anti-age ingredienser til huden og kroppen.
Mesoterapi skaber en naturlig foryngelse af huden på en terapeutisk måde og giver i forlængelse heraf en sundere hud. Vi skelner mellem en invasiv og en ikke-invasiv metode. Den invasive behandling foregår gennem meget overfladiske mikroinjektioner (0,5-1 mm.) af små doser anti-age mesococktails (bestående af vitaminer, aminosyrer og hyaluron) i de hudområder, der ønskes forbedret med hensyn til hudens farve, spændstighed m.m.
Mikroinjektionerne udføres med det nyeste hightech-udstyr, leadergun eller manuelt. Fordelene ved en leadergun er, at det er fuldautomatiseret og sikret udstyr, hvor den præcise mængde af produktet anvendes, og at mikroinjektionerne altid har den rigtige dybde.
Introduktion til kurset i invasiv mesoterapi
På kurset bliver du først og fremmest introduceret til teori om behandlingsformen, der ligger til grund for mesoterapien. Det er vigtigt for os, at du kender alle fordelene ved at blive mesoterapeut og er bevidst om de gode resultater, du kan give dine kunder med mesoterapibehandlinger.
Du lærer en mild og sikker manuel teknik, som er mest skånsom til ansigtet. Ud over den manuelle teknik kan en leadergun sikre dig en hurtig og nøjagtig kvalitetsbehandling, hvor den præcise dybde af mirkoinjektionerne og mængde af produkt er nøje afmålt i udførslen. Ønsker du at lære at bruge Leadergun, skal den bestilles 14 dage inden praktik. Leadergun gør behandling mere sikret og hurtig, da du kan justere dybde og produkt mængde.
Du lærer at udføre de mest effektive anti-age mesoterapeutiske behandlinger på krop, i hovedbunden og ansigtet med invasive behandlinger, hvor der anvendes mikroinjektioner.
Hvem kan tage kurset i invasiv mesoterapi?
Kurset invasiv mesoterapi kræver mindst et gennemført kursus i non-invasiv mesoterapi eller en baggrund i kosmetik- og sundhedsbranchen.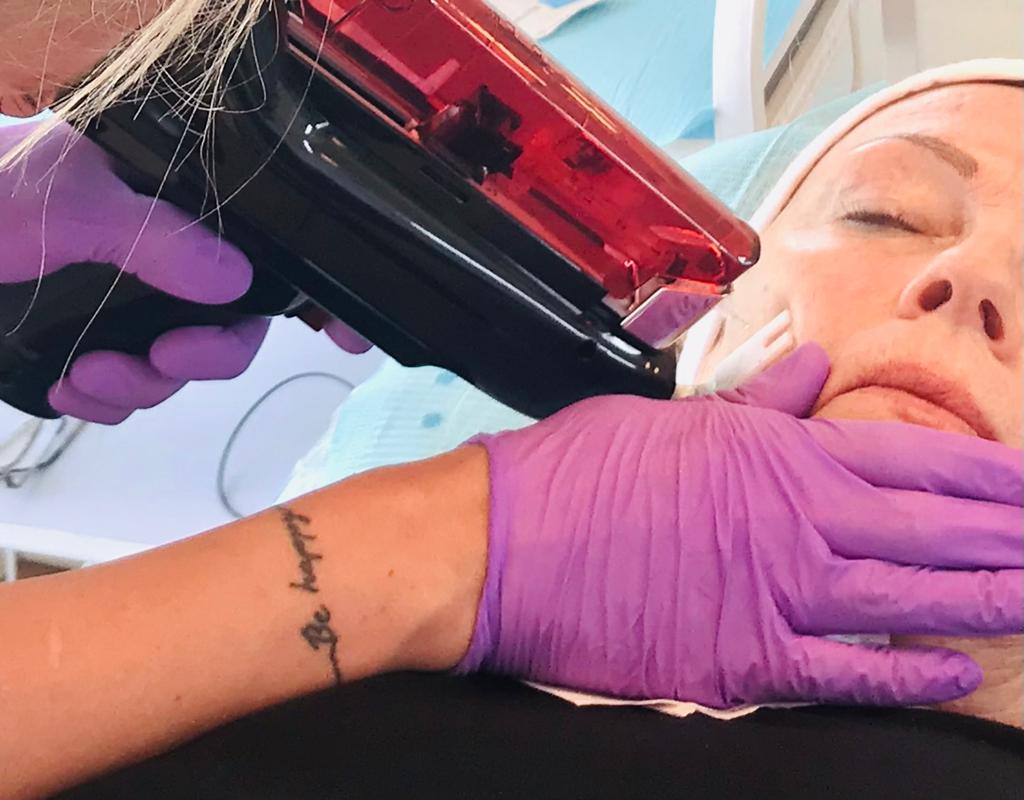 ---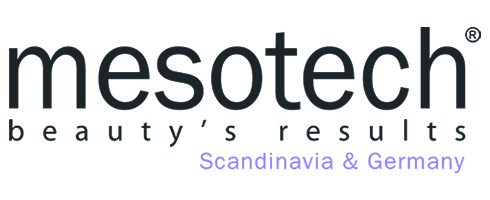 Vi anvender produkter fra Mesotech® til invasiv mesoterapi
Mesotech® er et italiensk farmaceutisk laboratorium med mere end 20 års erfaring inden for forskning, udvikling, innovation, fremstilling og distribution af sterilt medicinsk udstyr og nytænkende løsninger til hudpleje- og skønhedsklinikker, samt medicinske institutter.
Mesotechs® produktion følger kvalitetssystemerne ISO9001, ISO13485 (inkl. CE-mærke). Alle produkter er testet og bliver løbende kontrolleret under produktion, også hvad angår emballage, sterilisering m.m.

Produkterne kan kombineres og forbedrer hudens tilstand med det samme. Behandlingerne er helt sikre og giver langvarige og holdbare resultater.
Hyaluron er en fundamental komponent for huden. En aktiv basisingrediens i samtlige produkter, vi anvender i behandlingerne.
Behandlingerne er veganske, bioteknologisk producerede, og de er af høj koncentration.
---
Hvorfor Mesotech®?
Mesotechs® eksklusive formel har dokumenteret effekt i behandlingen af hudens forskellige aldersforandringer. Siden 2008 er mere end 3.000.000 behandlinger blevet gennemført verden over med tilfredshed og gode resultater.
Mesotech®-produkter benyttes til invasiv mesoterapi. De er sterile og skal opbevares på køl.
Mesoterapi med Mesotech®-produkter behandler effektivt ved tilførelse af effektive ingredienser direkte i huden:
rynker

pigmentforandringer

ar

slap eller tør hud

hårtab

strækmærker

tab af volumen i huden

rande og poser under øjnene

dobbelthage
Ved en mere målrettet bekæmpelse af alderstegn kan man med fordel kombinere behandling af forskellige hudområder samtidig (f.eks. hals, ansigt, hovedbund og håndryggen).
---
Det lærer du at behandle som mesoterapeut
Aldersforandringer i huden, der opstår som resultat af fotoældning (ændringer i hudens struktur, tab af elasticitet, mangel på fugt, fortykkelse af huden og en for tidlig dannelse af rynker). Dvs. aldringstegn i huden som slaphed, rynker og mathed. Nogle oplever også forstørrede porer eller poser og rande under øjnene, samt slaphed i huden på hænderne

At fjerne eller mindske røde og hvide strækmærker
At mindske eller fjerne hårtab hos mænd og kvinder i alle aldersgrupper

---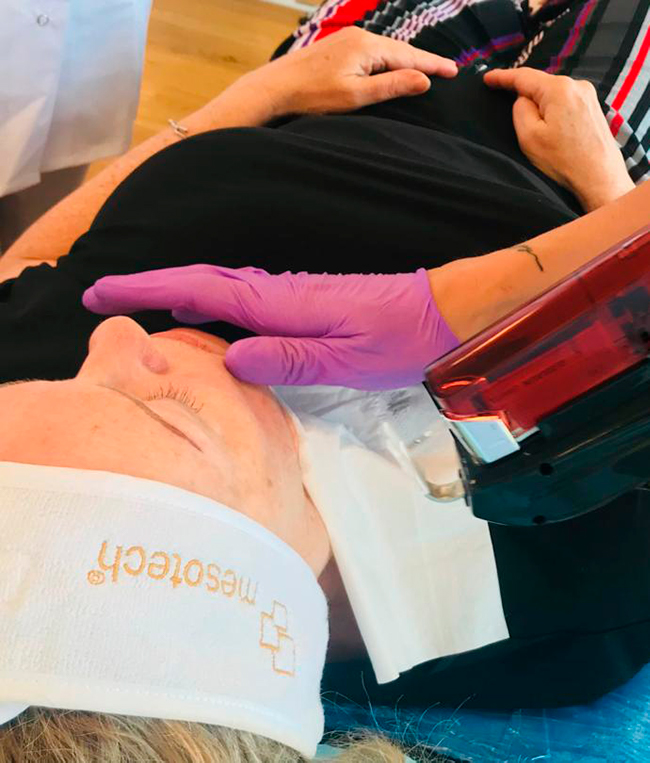 Uddannelsens indhold og opbygning
Kursusforløbet varer ca. en måned - alt efter, hvor lang tid du er om at gennemføre den første online del, som foregår i dit eget tempo. Du kan begynde på del 1 (teori) fra dag til dag.
Kurset i invasiv mesoterapi indeholder:
Del 1: Teori online inkl.startkit

Del 2: En praktikdag på vores kursuscenter i Vejle
Del 1: Teori online
Efter tilmelding til kurset modtager du et unikt login til online selvstudie med udvidet teorimateriale og videokursus i behandlingsteknikkerne trin-for-trin

Efter al teori er gennemgået går til til online eksamen, når du er klar (det kræver 75% rigtige svar for at bestå). Når denne er bestået får du adgang til kursets del 2.
Del 2: Praktikdag på kursuscenter
Mesoterapibehandlingerne er meget specialiserede og den eneste måde, du kan lære at udføre dem korrekt, er ved at koncentrere dig om ét emne ad gangen.
På kursusdagen lærer du den rigtige teknik og får en solid produktforståelse for hver enkelt meso-produkt. Hvad er dets egenskaber og hvordan virker de på hver enkelt udfordring, klienterne kommer med?
Praktikdagen vil typisk forløbe således:
Kl. 10.00 - 15.00 med modelbehandlinger

Mesoterapi til behandling af nedre ansigt

Mesoterapi til behandling af øvre ansigt

Mesoterapi til behandling af hårtab eller strækmærker

Herefter opsummering
---
Eksamen på kurset i invasiv mesoterapi
Teoretisk eksamen - online
Teoretisk eksamen sker online som afslutning af del 1 og er adgangsgivende til del 2.
Praktisk eksamen - på kursuscenter og hjemme
Praktisk eksamen sker som en kombination af behandling på model på kursuscentret i forbindelse med den praktiske dag og efterfølgende 10 behandlinger på egen hånd.
Efter den praktiske dag skal du øve de tillærte teknikker på egen hånd og sende før- og efterbilleder af behandlingerne til din underviser, som vil evaluere dem sammen med dig og give dig faglig sparring. Du skal som minimum have udført 10 modelbehandlinger på egen hånd, helst af personer med forskellige hudtyper og aldre, før du er kvalificeret til at modtage det endelige kursusbevis og internationalt akkrediteret certifikat for fuldendt kursus.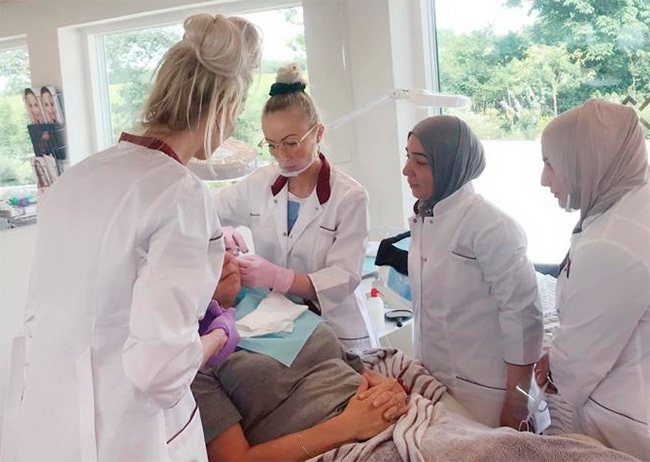 ---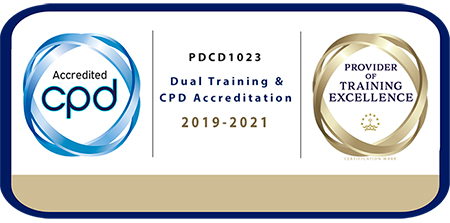 ​​​​​​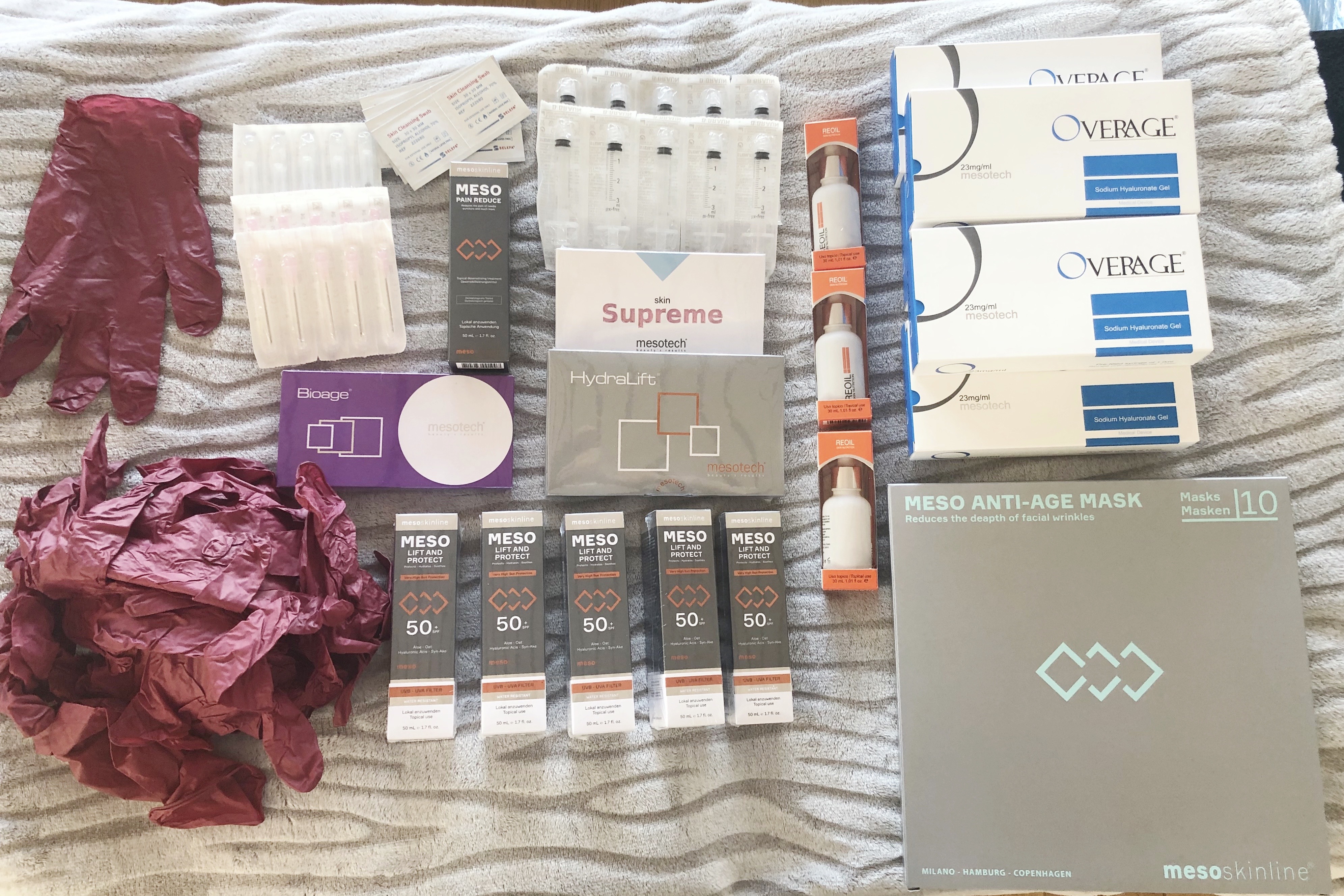 Det får du på kurset
Kursusforløb på ca. 4 uger med al nødvendig support, korrespondance og vejledning før og efter den praktiske dag

Stort Profi startkit

Et "Internationalt akkrediteret certifikat" (kræver, at du har gennemført 10 behandlinger på egen hånd jf. forrige afsnit)

Individuelt tilrettelagt undervisning og kursusforløb

Praktik på helt små hold med kun 2 eller 4 kursister

Der ydes efterfølgende gratis support
MESOTERAPI PROFI STARTKIT (ER INKLUDERET I DEL 1)
Indhold:
30 ampuller x Mesotech mesococktails (vælg 3 pakker i alt: skin supreme, hydralift, bioact, skin supreme, bioage eller biolift)
5 x Meso blå Overage
10 x antiage plaster-masker til at optimere effekt (skal være på huden i 30-40 min efter behandling)
10 x kanyler 30-33 G til mesoterapi
10 x kanyler 18-23 G (til at trække produktet op fra ampuller)
10 x 3-5 ml sprøjter
10 x desinfektionsservietter til huden inden behandling
10 x handsker i M str.
24 x Pure Peel - Peeling sachets til at brug før og under behandling
10 x Forskellige produkt flyers
1 x Pain Reduce - naturbaseret bedøvende og antiseptiske creme (uden lidocaine og lign.) til at bruge inden og under behandling
3 x Reoil (til videresalg som serum under dag- og natcreme, kr.290 vejl udsalg)
5 x Lift and Protect - meso dagcreme med solfaktor og lifting effekt (4 af dem er til videresalg, kr.490 vejl. udsalg)
---
Pris for kursus i invasiv mesoterapi
| MODUL (kan opdeles i del 1 og del 2) | Pris del 1 | Pris del 2 | Pris i alt |
| --- | --- | --- | --- |
| Bøger og materiale | Inklusiv | Inklusiv | Inklusiv |
| Certificeret kursus i invasiv mesoterapi | Kr. 7.500 | Kr. 7.400 | Kr. 14.900 |
| Eksamensgebyr | Kr. 0 | Kr. 0 | Kr. 0 |
Alle priser ekskl. moms.
Vi tilbyder finansiering op til kr. 40.000, rentefri i 12 måneder. Se mere her
---
Lav dit eget startkit med rabat
På kursusdagen får du 20% rabat på bestilling af varer til invasiv mesoterapi, så du kan sammensætte et startkit, der passer til din kundegruppe og dine behov og kun med de produkter, du har brug for.
Alternativt kan du benytte dig af vores startkits til non-invasiv mesoterapi.
---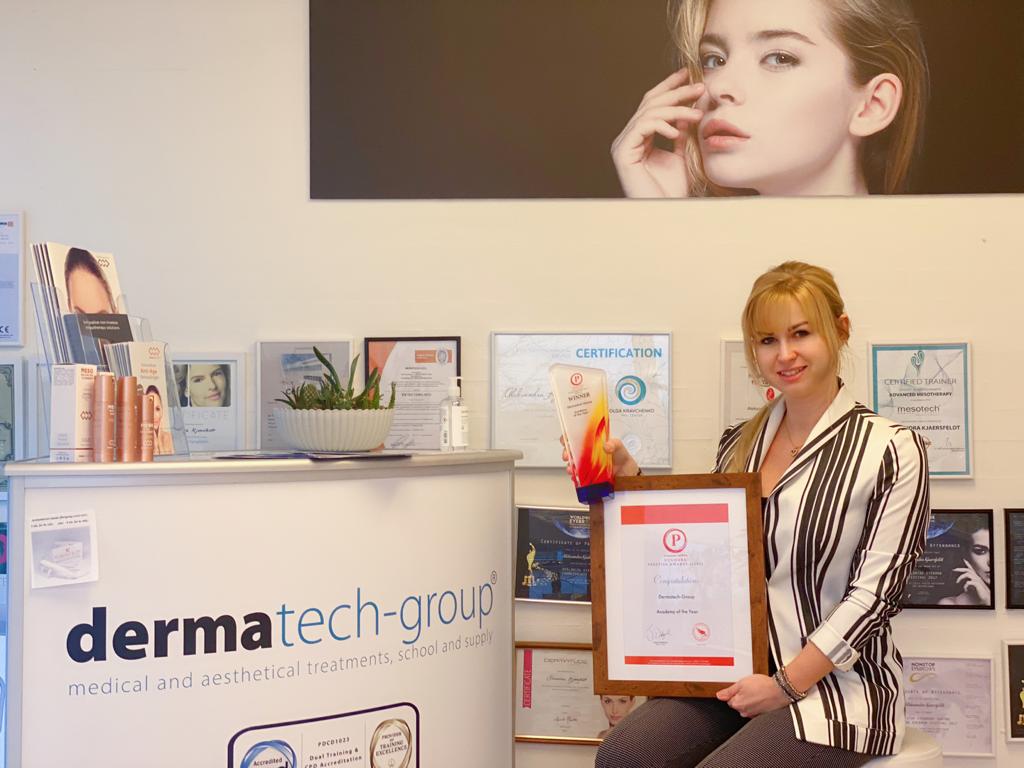 Din underviser på kurset i invasiv mesoterapi
På de fleste af PMU-line's kurser og uddannelser underviser Aleksandra Kjaersfeldt. En højtuddannet mastertræner i permanent makeup med egen klinik, og mange års erfaring inden for branchen.
Aleksandra Kjaersfeldt er:
uddannet mikropigmentist med speciale i avanceret permanent makeup og laserterapi

certificeret mastertræner i kosmetisk og medicinsk mikropigmentering

certificeret mastertræner i Lash og Brow Keratin Laminering

certificeret mastertræner i Eyelash Extensions

mastertræner i dermaterapi/klinisk rynkereduktion

mesoterapeut

antiage-terapeut
Der er ikke det område inden for permanent makeup, som Aleksandra Kjaersfeldt ikke har arbejdet med. Til trods for det, er Aleksandra et ydmygt menneske, som altid møder sine studerende med stor begejstring og åbenhed. På permanent makeup uddannelsen vil du derfor få mulighed for at få svar på stort set alle spørgsmål inden for permanent makeup og medicinsk pigmentering.
​​
Kåret til de bedste inden for permanent makeup 2020
Vi er stolte af, at hele vores Dermatech-group uddannelsesakademi har vundet Prestige Awards' præmien som de bedste inden for permanent makeup 2020. Prisen gives på baggrund af uddannelsernes, behandlingernes og produkternes kvaltet, vores etiske arbejdsmetoder og konsistens i præstationerne.
Vi er alle kollegaer
For Aleksandra er det vigtigt at se andre mikropigmentister som kollegaer frem for konkurrenter – for når alt kommer til alt, bør det altid være kundens specifikke behov, som er det centrale.
Står man derfor med en kunde, der har et særligt behov, er det bedre at sende kunden videre til den rette mikropigmentist, end at ende med et slutresultat, som hverken du eller kunden er tilfreds med. Sammen opnår vi de bedste resultater, så lad os samarbejde og hjælpe hinanden - og kunderne.
Yderligere oplysninger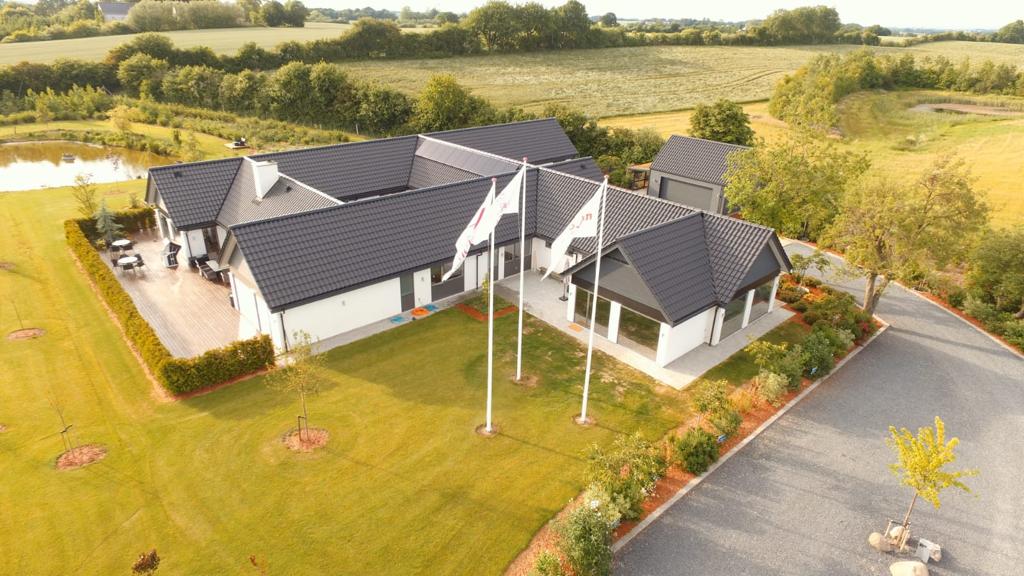 | Title | Type | Size | Download |
| --- | --- | --- | --- |
| | PDF | 0.00B | Download |
Customers who bought this product also bought