---
1-Liner Hygiene Module (0,4 mm)
The 1-Liner Hygiene module is used for very thin lines.
Perfect for hairstrokes on eyebrows, lashliner or the contour of very fine lips.
With a diameter of 0.4 mm, the needle looks optically like a sewing needle.
The module is especially suitable for very precise, neat and distinct lines with a high color density. The needle penetrates slightly into the skin.
Cautiouns!
If you repeatedly treat the same line with the needle module, the skin gets small incisions that can give visible scars!
Beginners should not use the 1-Liner hygiene module for fine eyeliners.
Application
Ideal for very fine contour, 3D eyebrows with fine hairstrokes
Perfect for sharp lines when drawing lip contour and shading
Suitable for lashliner
Can be used for allergy testing
EU patented needle modules:
minimal damage to the skin, almost no swelling or bleeding on a delicate eyelid skin
even and rapid pigment retention already at the first pass
significantly fewer cases of herpes
remarkably fast healing
the needle can be dipped in pigment or pigment can be poured directly into the module
no contact with unprotected needle as the needle is always inside the module
no contamination risk thanks to the construction of the needle module
the hygiene modules do not require sterilization as they are sterile and disposable
individual packaging with own serial number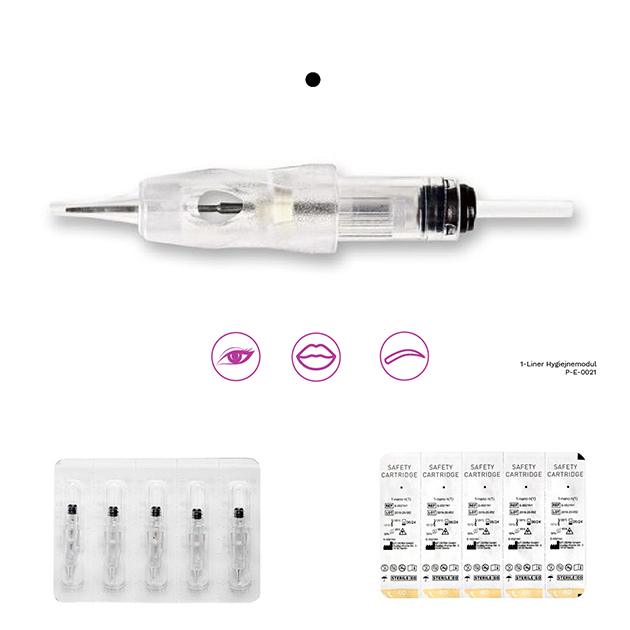 Customers who bought this product also bought