---
5-SLOPE HYGIEJNE MODULE (5 x 0,25 mm)
2 in 1: module with five needles of different lengths is a versatile combination of needles: liner and shader in one module.
The 5-slope oblique needle type implies a 32 degree alignment of the needles so that it can be used vertically as a liner or in flat movements as a shader.
The 5 Nano Slope has ultra fine needles ( Ø 0,2 mm) with specially sharpened tip that makes it possible for a skilled PMU artist to create extremely fine lines, shading and ombre or use it as a perfect liner needle.
These cartridges are intended for professionals.
Application
Ideal for applying soft lip contour
Shadowing techniques
Create the effect of perfect precision in the shape of the eyes or lips
Hairstrokes
Powder brow techniques
3D lips
Areola
EU patented needle modules
minimal damage to the skin, almost no swelling or bleeding on a delicate eyelid skin
even and rapid pigment retention already at the first pass
significantly fewer cases of herpes
remarkably fast healing
the needle can be dipped in pigment or pigment can be poured directly into the module
no contact with unprotected needle as the needle is always inside the module
no contamination risk thanks to the construction of the needle module
the hygiene modules do not require sterilization as they are sterile and disposable
individual packaging with own serial number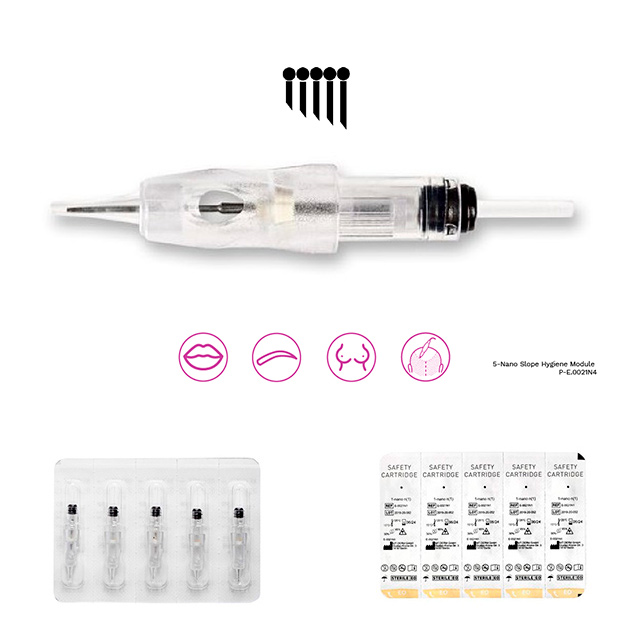 Customers who bought this product also bought