---
Almond Brown (EB1610)
Almond brown is a warm brown pigment with a golden hue and a light brown base.
Gives the eyebrows a dark blonde color
Ideal for light blond / blond-haired and red-haired clients
Always mix with 2 drops of ST0310
Test our pigments for free before buying (max. 3 pigment-testers per customer)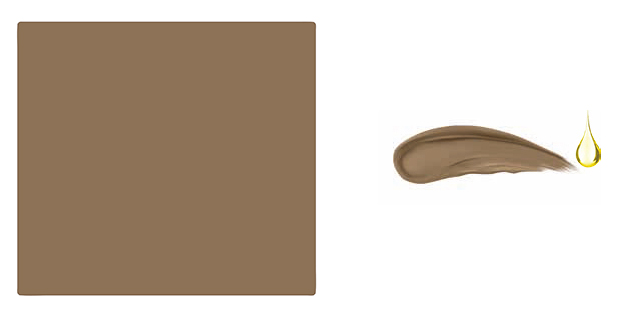 ---
100%
Absolutely sterile and hygienic

5-year shelf life after production (unopened)

100% biocompatible and perfectly matched to the skin's natural pH

Produced in the EU in a certified medical laboratory since 1999 in accordance with ISO 9001, EN13485 and GMP

Ingredients and all base materials are 100% natural origin

Environmentally friendly and vegan
0%
0% preservatives

0% latex

0% PPD

0% petrochemical derivatives

0% nanoparticles

0% water

0% paraben

Not tested on animals
PRODUCT DETAILS
Perfect dosage and sterility throughout - the pigment comes in an airless bottle which is easy to use thanks to an ultra-precise pump and it remains sterile between treatments.

Safe and fully compliant with relevant legislation. Passes the most stringent testing described in Resolution ResAP (2008) 1.

Complies with European standards for medical devices CEIIb.

Labelling complies with European legislation on tattoos and permanent make-up products and makes it possible to identify and trace the products.

Produced and packaged using the latest medical technology in clean rooms with a class C and D controlled atmosphere. They are then sterilized by gamma radiation at a dose greater than 25 kGy in accordance with validated industrial applications.

The precise combination of organic and mineral pigments is subjected to strict control and analyzed for heavy metals and aromatic amines.
BENEFITS
1 bottle has a MINIMUM of 40 treatments

Microblading pigments have high viscosity, which optimizes pigmentation.

Amazingly easy to work with and treatments take significantly less time.

Ultra-fast setting and long-lasting results (no need to replenish).

Maximum pigment concentration guarantees long-lasting, stable color.

Developed for all types of pigmentation (PMU, scalp, areola pigmentation, microblading, softap, scar and vitiligo camouflage), PMU-line pigments offer you perfect compatibility with all equipment and treatment techniques.

The color won't shift to red or blue thanks to the "biocoating" of pigment particles.

It won't evaporate or dry out during treatment.

Stable, intense shades for all skin types and ethnicities.

The wide range of shades allows you to offer your clients the perfect custom pigment for their skin type and guarantee them a natural look.
---
Customers who bought this product also bought