---
Introduktion til Ombre Brows masterclass
Vil du gerne lære at lægge den perfekte skygge, som kan stå alene, eller kombineres med hairstrokes teknik? Ombre brows kan både udføres med maskine og microblading pen og sætter prikken over i'et på dine permanente bryn behandlinger.
PMU-line's masterclass kursus i ombre brows er egnet til dig, som allerede tilbyder klassisk permanent makeup og gerne vil udvide dine kompetencer med mere avancerede behandlinger.
Dette er et "upgrade" kursus for dig, der vil dygtiggøre dig og tilbyde dine kunder det allerbedste.
---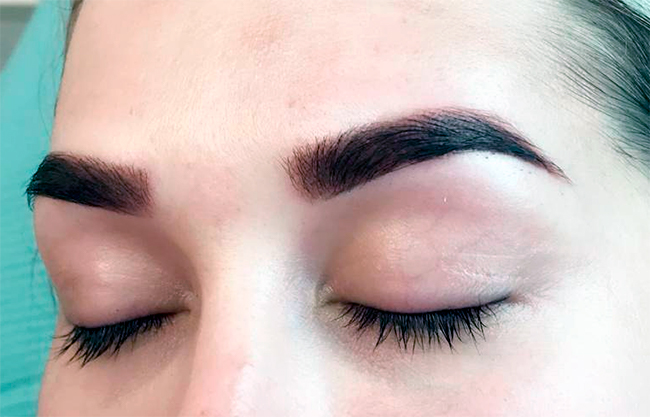 Vi garanterer et grundigt masterclass-kursus
Vi er blandt de europæiske pionerer inden for Permanent Makeup behandlinger og Permanent Makeup uddannelser.
Det er vi stolte af - og vi er vores professionelle ansvar bevist.
Du undervises kun af yderst veluddannet og erfarent personale - og vi bruger udelukkende udstyr og tilbehør, der lever op til de strengeste EU-krav. Vi opererer efter strenge etiske og kvalitetsmæssige standarder, hvilket vores Prestige Award vidner om.
At udføre Permanent Makeup behandlinger kræver talent, kunstneriske færdigheder og en bunke tid, tålmodighed og viljen til at lære.
Vi har lysten og evnerne til at lære dig det, men du skal medbringe resten.
---
Kursistudtalelser
Jeg har gået på kursus hos Aleksandra Labina i permanent bryn, og hun er virkelig god til at lære fra sig, og man bliver tryg til at lave sine egne behandlinger hjemme. Aleksandra får mine varmeste anbefalinger
-- Karina Friis fra Klinik Karina
Super dygtig og professionelle kurser og uddannelser. Har taget 2 kurser (microblading og ombre brows) i pmu hos Alexandra, og hun er en kanon dygtig underviser, og et enormt hjertevarmt og empatisk menneske. Kan kun sende min varmeste anbefalinger til hende.
-- Laila Damgaard, selvstændig kosmetolog hos By|Laila
Se flere udtalelser på Trustpilot her
---
Hvem kan tage vores ombre brows masterclass?
Alle med vores permanent makeup uddannelse har adgang til dette kursus.
Du kan naturligvis også få adgang, hvis du har en tilsvarende uddannelse fra en anden uddannelsesinstitution, eller hvis du har omfattende (dokumenteret) erfaring med at udføre behandlinger med permanent makeup bryn.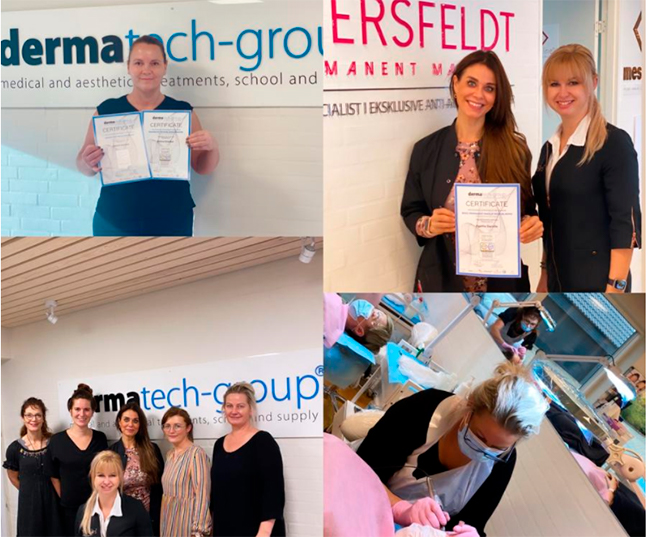 ---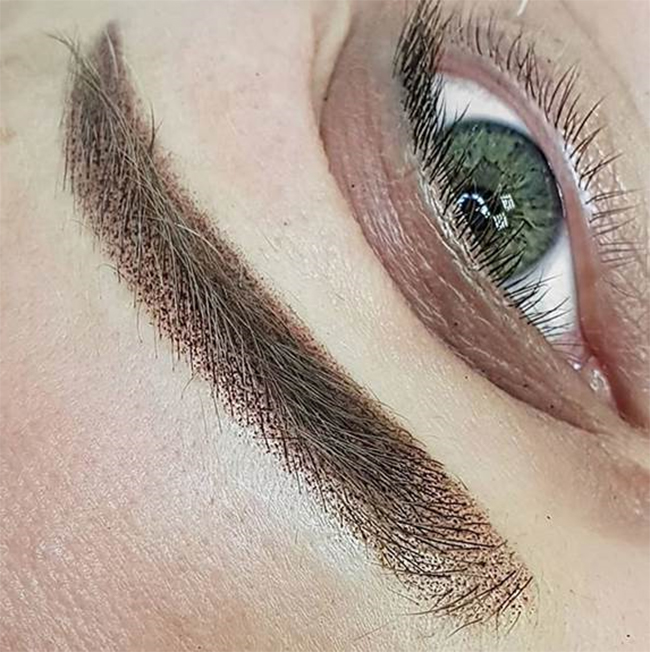 ​Kursets forløb og opbygning
Vores ombre brows masterclass tager ca. 5 uger, men kan gøres både hurtigere og langsommere, alt efter hvor hurtig du er til at gennemføre den første online teoretiske del, som foregår hjemme hos dig selv i dit eget tempo.
Kurset er opbygget således:
Del 1: Teori og øvelser online

Del 2: Praktikdage på kursuscenter
Læs mere om de to dele, deres forkøb og indhold nedenfor.
---
Del 1: Online studie
Når du har tilmeldt dig ombre brows masterclass og betalt for kurset, får du et login til del 1, som er dit online studie. Herfra er vi der for dig gennem hele forløbet og du må endelig ikke tøve med at række ud til os, hvis du er i tvivl om det mindste.
I dit online forløb indlægges 3 online webinarer med din underviser - hhv. en introduktion, en opfølgning på, hvordan det går, samt en eksamen. Ellers er hele første del selvstudie i dit eget tempo.
I dit online studie på vores masterclass i ombre brows vil du bl.a. komme omkring emner som:
Fordele ved ombre brows

Ombre-dusty brows

Ombre-natural brows

Ombre-trendy brows

Optegningen af form

Farveteori, farvevalg og farvekorrektion

Aftercare

Hjemmeøvelser

Online eksamen
Når du har gennemført alt materialet, gennemført og afleveret dine øvelser, fået feedback på disse og har gennemgået online eksamen, er du klar til del 2.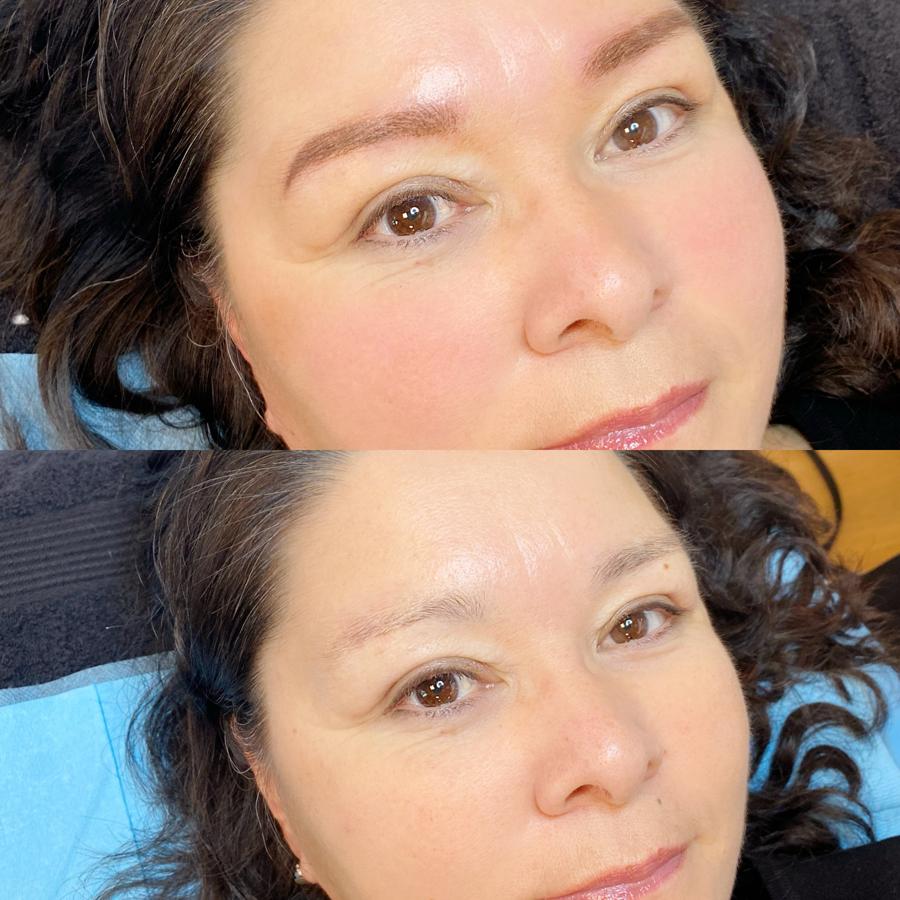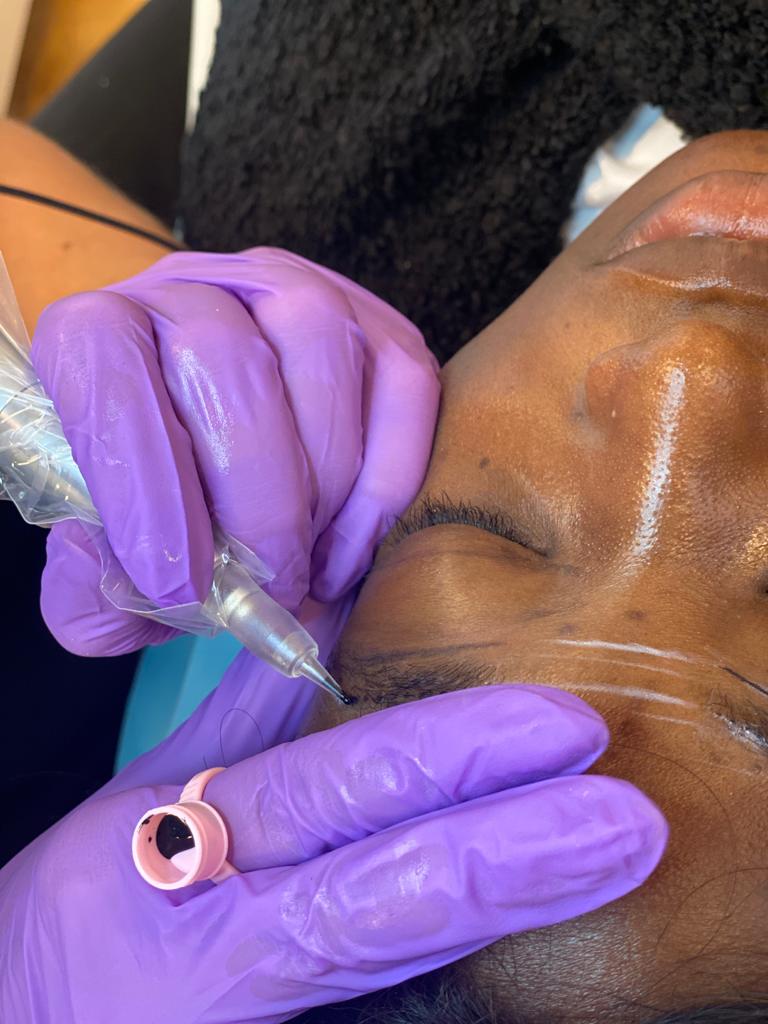 Del 2 - Praktisk øvelse
Når første del er overstået får du adgang til den anden og praktiske del af ombre brows masterclass kurset. Her skal du praktisere de teorier, du har læst og set.
Den praktisk del af foregår på vores kursuscenter nær Vejle.
Antal mødedage er mindst 2, måske mere, alt efter dine evner og din udvikling.
Praktikken foregår som udgangspunkt tirsdage og torsdage i lige uger i tidsrummet kl.10-14.30.
De praktiske dage består af:
Øvelser på model

Evaluering af øvelserne
Vi tilbyder en fleksibel del 2
Du vælger selv, om du kan deltage én eller flere gange om ugen.
Vi nedskriver bare det antal timer du har deltaget, og antallet af opgaver du har afleveret, i dit individuelle kursistskema.
På den måde kan du tage din masterclass i ombre brows i det tempo, der passer ind i dit liv, hvor der måske er en klinik, eller andet arbejde, der også skal passes.
---
Eksamen
Den første eksamen du vil opleve på masterclass-kurset er online ved afslutning af del 1.
Her er en online test, som du skal bestå for at modtage et certifikat, der giver adgang til del 2.
Når du er igang med del 2 og de praktiske øvelser er det vigtigt, at du husker at træne de tillærte teknikker derhjemme i dagene imellem kursusdagene.
Dette skal dokumenteres med billeder af den øvelseshud, du får med hjem.
Efter din sidste praktiske dag, når vi sammen vurderer, at du er klar, falder eksamen, som er en skriftlig og en praktisk.
For at kunne gå til eksamen skal du have udført mindst 10 modelbehandlinger på egen hånd - meget gerne på personer i forskellige aldre og med forskellige hudtyper.
Vi står naturligvis for at finde modeller til din eksamen og de praktiske dage.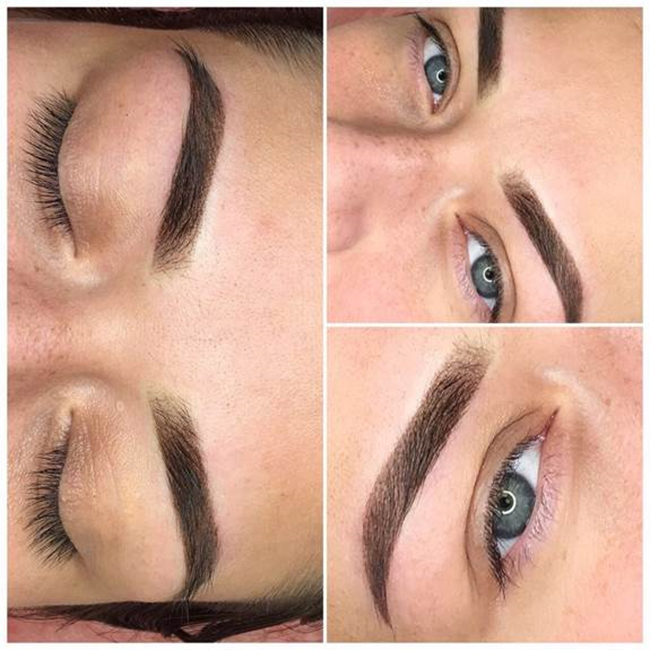 ---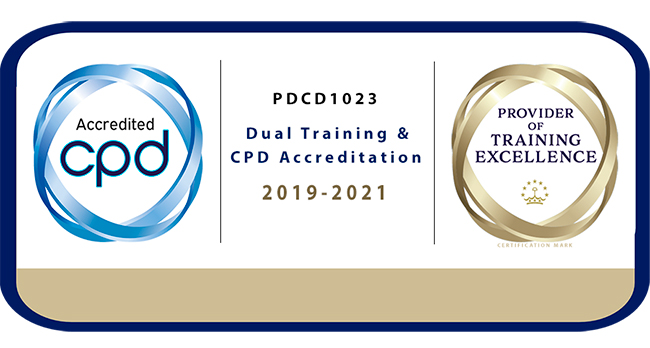 Det får du efter vores ombre brows masterclass
Efter færdiggørelse af del 1 + 2 får du:
Internationalt CPD-Certifikat

Adgang til ubegrænset support hos os

Invitation til ekstra observationsdag inden for de første 12 måneder
Ekstra observationsdag med Aleksandra
Efter endt uddannelse er du meget velkommen til at holde kontakten til Aleksandra. Hun rådgiver altid gerne tidligere elever. Inden for de første 12 måneder efter uddannelsen, tilbyder Aleksandra derudover en ekstra observationsdag, hvor du som tidligere studerende eller kursist, kan observere Aleksandra arbejde. I samme forbindelse får du også mulighed for at drøfte fagspecifikke spørgsmål med hende.
Det har vist sig at være meget gavnligt – for når du efter endt uddannelse begynder at arbejde med permanent makeup, møder du ofte helt nye problemstillinger, som er gode at drøfte med andre mikropigmentister.
---
Pris for ombre brows masterclass
| MODUL (Kan opdeles i del 1 og del 2, eller de kan købes samlet) | Pris del 1 | Pris del 2 | Pris i alt |
| --- | --- | --- | --- |
| Bøger og materiale | Inklusiv | Inklusiv | Inklusiv |
| Permanent makeup ombre brows masterclass | Kr. 4.000 | Kr. 4.000 | Kr. 8.000 |
| Eksamensgebyr | Kr. 0 | Kr. 0 | Kr. 0 |
Alle priser ekskl. moms.
Vi tilbyder finansiering op til kr. 40.000, rentefri i 12 måneder. Se mere her
---
Praktiske bemærkninger til kurset
Din praktiske undervisning foregår hos PMU-line (Dermatech-group). Du finder du os lige øst for Vejle, 5 minutter fra motorvej E45, lidt udenfor byen.
Der er gratis parkering på stedet.
Undervisningslokalerne består af et behandlingsrum, hvor de studerende kan se underviseren udføre behandlinger på rigtige kunder. Derudover er der et konferencerum, hvor teorien gennemgås.
På grund af de særlige Covid19-restriktioner, som forhindrer udlevering af ikke-emballerede fødevarer, bliver frokost i øjeblikket ikke serveret på kursusdagene. Derfor er du velkommen til at medbringe din egen frokost. På alle kursusdage og eksamensdagen stilles der dog enkelte snacks, kaffe, te, vand og frugt til rådighed til fri afbenyttelse.
---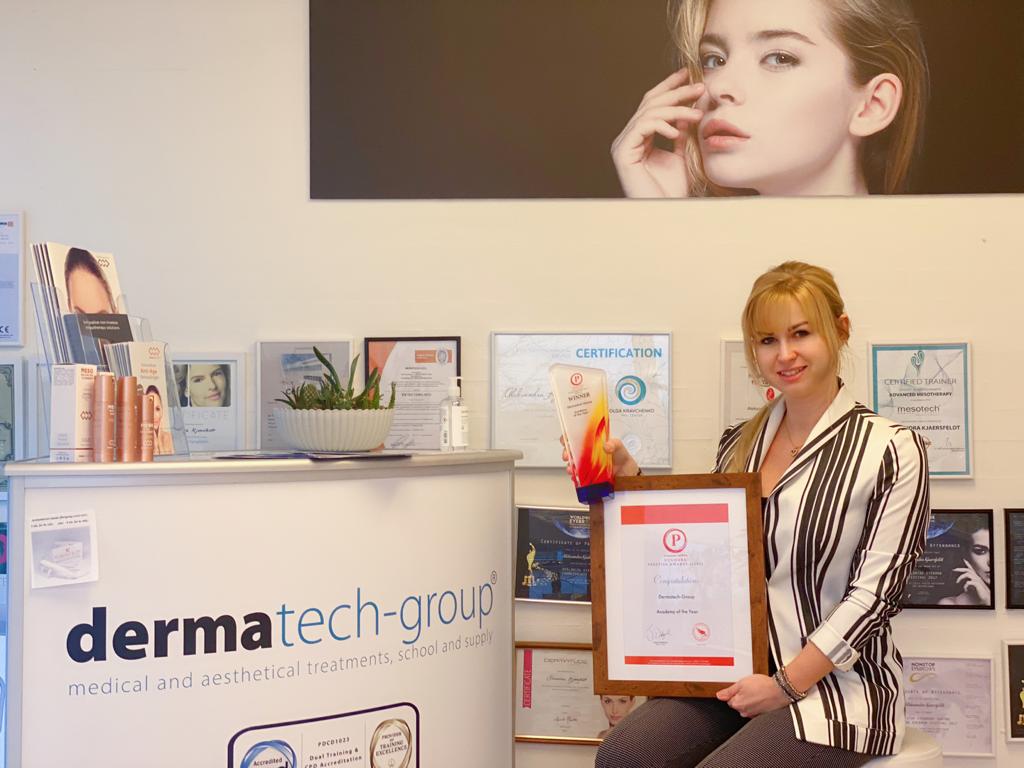 Din underviser på ombre brows masterclass
På de fleste af PMU-line's kurser og uddannelser underviser Aleksandra Kjaersfeldt. En højtuddannet mastertræner i permanent makeup med egen klinik, og mange års erfaring inden for branchen.
Aleksandra Kjaersfeldt er:
uddannet mikropigmentist med speciale i avanceret permanent makeup og laserterapi

certificeret mastertræner i kosmetisk og medicinsk mikropigmentering

certificeret mastertræner i Lash og Brow Keratin Laminering

certificeret mastertræner i Eyelash Extensions

mastertræner i dermaterapi/klinisk rynkereduktion

mesoterapeut

antiage-terapeut
Der er ikke det område inden for permanent makeup, som Aleksandra Kjaersfeldt ikke har arbejdet med. Til trods for det, er Aleksandra et ydmygt menneske, som altid møder sine studerende med stor begejstring og åbenhed. På permanent makeup uddannelsen vil du derfor få mulighed for at få svar på stort set alle spørgsmål inden for permanent makeup.

​​​​Kåret til de bedste inden for permanent makeup 2020
Vi er stolte af, at hele vores Dermatech-group uddannelsesakademi har vundet Prestige Awards' præmien som de bedste inden for permanent makeup 2020. Prisen gives på baggrund af uddannelsernes, behandlingernes og produkternes kvaltet, vores etiske arbejdsmetoder og konsistens i præstationerne.
Vi er alle kollegaer
For Aleksandra er det vigtigt at se andre behandlere som kollegaer frem for konkurrenter – for når alt kommer til alt, bør det altid være kundens specifikke behov, som er det centrale.
Står man derfor med en kunde, der har et særligt behov, er det bedre at sende kunden videre til den rette behandler, end at ende med et slutresultat, som hverken du eller kunden er tilfreds med. Sammen opnår vi de bedste resultater, så lad os samarbejde og hjælpe hinanden - og kunderne.
| Title | Type | Size | Download |
| --- | --- | --- | --- |
| | PDF | 0.00B | Download |
Customers who bought this product also bought